Moving to The U.S. with Shipping Containers
Groupage allows secure shipment and cost effective quick shipment of possessions.
Container Groupage For Moving to the USA
Moving possessions to another country can be filled with unexpected events and avoidable costs. Containerizing is a proven way to reduce risks and costs.

Local moves benefit from packing directly into the moving van. The same people unload and unloaded items moved to a nearby location.
Long distance moves however are exposed to greater distances, vibration, climate change, and in transit handling.
Coordinating the moving of packed items from a smaller local delivery van, to truck, train or sea transit, plus customs inspection simply gets complicated.

Cross border moving needs to deal with vibration, climate and unexpected costs.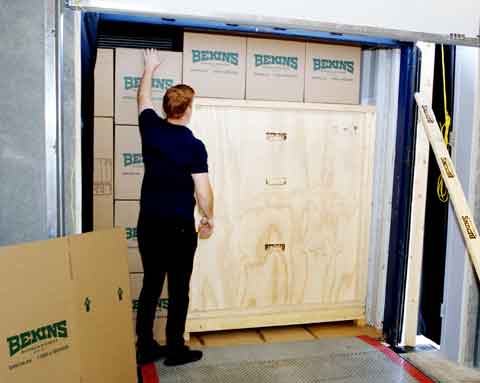 • Carefully Arrange the Already Packed Items
Everything needs to arrive in expected condition. Furniture vaults and properly packed boxes reduce handling and damage.

• The Devil Is In The Moving Details
The move quotation and moving inventory identify volume, weight and packing considerations. They are lists to help you uncover items best left behind or that should have adjusted packing. Custom crating, protecting against freezing temperatures, plastic wrapping to protect against smells or unwanted bugs are frequently used options.

• International Move Insurance
Insurance coverage for items packed by the origin agent tends to be the most complete. Coverage that requires total loss, does not cover shipping and packing costs or with exemptions can be problematic.

• Extra Charges
Items not included in the quote are a core source of extra charges. Certified weight scales use but not included in the quote, extra storage due to a importation issue or special access delivery charges potential sources of extra not included costs.



... for other world wide destinations beyond the United States... click here
International Container Processing Terms
• The Owner
- also called the exporter and the importer by the border services and import tax department in the destination country.
• The Move Manager
- also called the shipping company or Broker who monitors and guides the shipment through to the eventual delivery.
• The Origin Agent
- also called packers or referred to as the sales agent who provided the "origin services", are the ones who do the site survey, quote prices, do packing, inventory and pick up.
• The Consolidating Warehouse
- Less than Container Loads (i.e. LCL) of household goods are brought here by freight forwarders.
- often also a Bonded Warehouse that fills each container to help control costs.
• The Freight Forwarder
- freight forwarders involved should be government licensed, handling line haul, documentation and terminology, for your goods within that jurisdiction.
• The Origin Port
- also called the Origin Terminal or Export Port.
- This is where the packed and sealed container that has cleared customs is loaded for international shipment.
- It is where Origin fees or handling charges are incurred.
• The Container Company
- They own of the ocean going container that holds the household goods.
- Shipping Containers are built to with stand the elements, however fumes, dust or even pests may present unpleasant consequences.
• The Shipping Company
- It owns the vehicle or ship that is transporting the container items to the destination country.
- Ships impact the costs when they; use ultra slow propulsion, low fuel consumption technics, overbook cargo or change shipments at their convenience.
- Shipping companies rearrange schedules, damage cargo, rearrange routes often without liability for resulting extra costs unless ongoing shipments are involved.
- Frequently a shipping company can be the difference between goods arriving as expected or being left in the dark while goods flounder somewhere.
• Destination Port
- also known as the Destination Terminal or Import Port.
- Destination fees or handling charges are incurred here in the currency of the destination country.
• Destination Bonded Warehouse
- they process importation and fees where the goods are cleared by destination customs.
• The Destination Agent
- also called the delivery agent. They process the delivery of the goods from arrival at the port through to potentially unpacking at the new residence.
- they will speak the language, know the local rules and understand destination delivery issues for 40 foot containers.

Cross border moves each find unique combinations of people and companies fulfilling these jobs, often without the work chain members even knowing about each other. It is always a careful balance of costs versus proven performance from experienced companies or serendipity where do it yourself thriftiness select the lowest cost options. Regardless, knowing these terms and roles is a good step in avoiding unknowns popping up as extra costs later.
Why Bekins is Best
Bekins years of experience guides the management of all or portions of moving activities. Matching destination state regulations processing transit at the origin agent, consolidating warehouse, freight forwarder, origin port, container company, shipping company, destination port, destination bonded warehouse, destination agent, and international move insurance, are everyday tasks.

Bekins single point processing system delivers a quality move by including execution through trained crews doing packing, disassembly, loading, storage, transporting, unpacking and reassembly. All without needless extra surprise costs or lost time.

• In a perfect world preparation begins months ahead BUT in the real world preparation begins now!

Bekins offers 100's of world wide professionals and 1000's of pieces of equipment, aiding families and organizations moving to the US from Canada.
Bekins works for cost effectiveness via Rocky Mountain, desert or sea routes and seasonal transit options moving to the US includes.
Bekins uses the cleanest processing, storage and purpose built facilities available.
Bekins looks to optimize storage and split shipment savings.